We just got back from a great weekend near Orting, WA at an SCA event called "Lionhearts". I have to say that it was far beyond my wildest expectations of an SCA event (I guess I'm remembering too much from my youth...). People in linen and wool, split hose and braes, and best of all, Lots of Horses! After a fun time on Saturday doing "dancing" and a Challenge Course, on Sunday we did a little old-fashioned Cavalry Drill, and then! Woo Hoo! A
Cavalry Charge
, lances and all! Of course we didn't charge against anyone in particular... however, we did split our numbers (some 14 horses and riders) into two groups and "charged" each other from across the field! Needless to say we choreographed it well, and there was plenty of room between horses for everyone to pass through untouched. We did this something like 6 times? It was a definite hoot!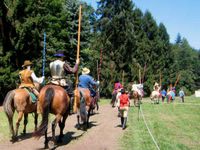 I was also very impressed with the warm welcome "Bob" and I received from the participants, and the great pleasure we had in partaking of this event. I have to say that I'm having a great time.
Last weekend I ran South to California to watch my youngest Daughter perform in
"Bus Stop"
at San Joaquin Jr. College. She was, of course, fabulous, and the other actors were excellent as well. I was very impressed. However, I have to say that the heat which welcomed me back to my home town was unpleasant at best. I managed to steal a day to run out to the
Stafford Lake Renaissance Faire
in Novato, but it was hotter than a two-shilling pistol there as well. But it was fun to see "my Boys" never the less! Always good to see the lads and lassies from the RMS! Driving home though, and passing through Redding at 4:05PM, it was 115 degrees F. YUCK! Glad I'm in NW Washington!